Description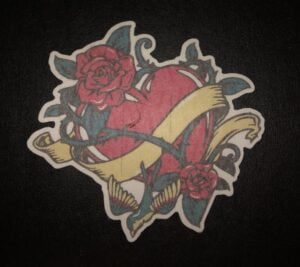 Rose Heart Design Silly Patch
Rose Heart design precut medical adhesive patch to secure all diabetic devices.
All Silly Patches are available for all CGM & pump sites on the market, if yours is not listed then select custom and we will get it made for you.
Are you sick of an ugly device? Add artistic design to your continuous glucose monitors sensor or insulin pump infusion sites.
Extend the life of your sensor! Waterproof, long lasting and no fray.
Great for active kids of all ages. Hypoallergenic Pressure Sensitive Adhesive Tape is safe on all skin, and designed to breathe and move with you.
A 
Silly 
Patch 
is 
for 
all 
diabetic 
patients 
who 
want 
to 
cover 
and 
protect 
their 
diabetic 
devices. 
Add 
special 
designs 
to 
your 
CGM 
sensor 
or 
insulin 
pump 
sites.
How can I make my sensor or infusion site stay in place securely?
Showering, sweaty gym sessions, swimming and the general rough-and-tumble of daily life all conspire to help remove your costly CGM sensor from your body.
Tired of having your device fall off early while active? Never again will this happen after you place a Silly Patch over your device to keep it secured and looking cool
Sensors and devices are expensive to replace.
Silly Patches are perfect for securing your insulin pump or CGM device.
Custom made. Get your own design!
Designed by a Type 1 Diabetic who uses these patches every day. https://www.facebook.com/ASillyPatchLLC
Silly patches are made of a 3M medical device tape, right here in the USA.
Whether you are into activities and sports like just swimming at your local pool, our patches can withstand the rigor and keep you on the move. Plus, they look really cool with many unique sketch designs to choose from!!
Silly Patches are available in many colors
Rose Heart design precut adhesive patch to secure diabetic devices
A better way to keep diabetic insulin infusion sites and cgm sensors attached
Temporary tattoos
Printable designs
Ships worldwide!
check out our patches in action silly-patches-in-action
Star of Life Design Silly Patch